In our last blog post we talked about the first step in the animal intake process at Forsyth Humane Society, which is vaccinating the animals that enter into our care. The next step in the intake process is deworming both cats and dogs.
An animal infected with worms can easily pass those parasites to other animals, so deworming is extremely important for shelter pets. In addition, a severe worm infection can cause death. Our cats and dogs are regularly treated for roundworms and hookworms while in our care. If a pet tests positive for, or we suspect a pet may have tapeworms or whipworms, the animal is also treated for these parasites. In general, most animals are exposed to these parasites by the following:
Consuming contaminated milk from an infected nursing mother (roundworms)
Exposure to contaminated soil
Consuming infected prey animals such as rodents and birds
Ingesting fleas, ticks and mosquitos
Direct contact with an infected animal
Consuming or direct exposure to an infected animal's feces or vomit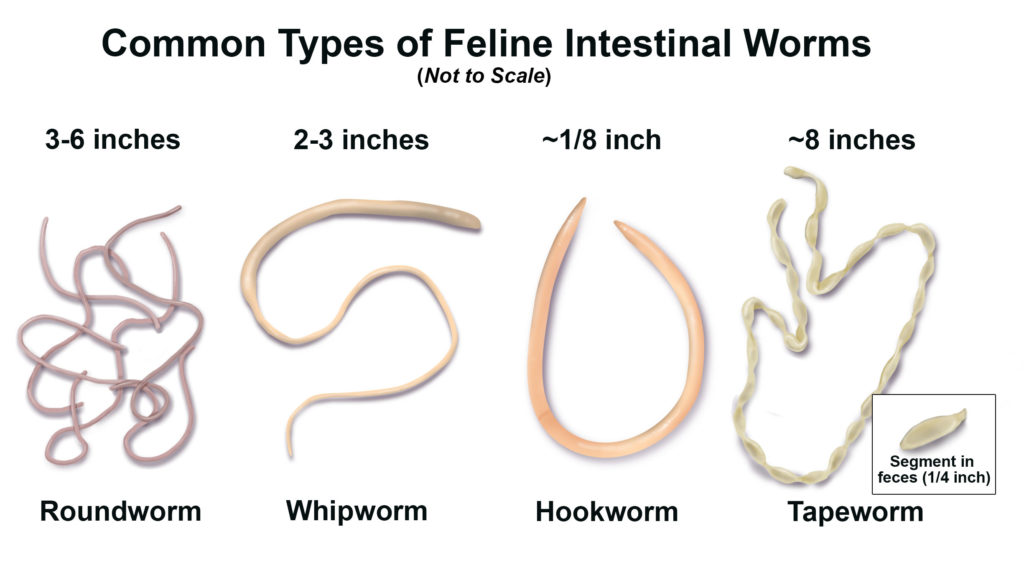 There are four types of intestinal worms common in cats and dogs. These include:
Roundworms: Roundworms are the most common type of intestinal parasites of the worm variety for cats and dogs. These worms live in the intestinal track and deposit eggs in the stool of a host. The worms can reach 3"-5" long by adulthood and look similar to a wet piece of spaghetti. This type of worm is also transmitted to kittens and puppies during nursing. In addition, cats and dogs can contract this parasite by feeding on an infected animal, such as a rodent, chicken, cockroach or earthworm, or by coming into contact with the feces of an infected animal. Roundworm eggs are extremely resilient and can survive harsh conditions, therefore, it's always best to remove feces from litterboxes and outdoor areas as soon as possible in order to prevent infection or re-infection. Roundworms can also infect humans through contact with infected soil. Our medical team administers 2-3 rounds of Strongid/Pyrantel treatment for each of our shelter animals when they enter our adoption program.
Tapeworms: Tapeworms are also very common in cats and dogs. This parasite attaches itself to the host's small intestine with its sharp, hook- like oral cavity. Tapeworms have long, flat segmented bodies and can grow to 8" in length. Pets that are infected with tapeworms will have dried segments, similar or smaller to a piece of white rice, around their bottoms. Animals become infected with tapeworms when they ingest a host that is carrying tapeworm eggs, usually fleas and birds. Tapeworms sustain themselves by feeding off partially digested food in the host's intestines, and can leave the infected cat or dog lacking in important vitamins and nutrients. Our medical team administers one treatment of Droncit/Praziquantel when tapeworms are present or when we suspect an infection.
Hookworms: Hookworms live in the small intestines of infected animals. Adult worms grow to 1" in length and feed on the blood in the intestines, causing the host to experience anemia. If left untreated, hookworms can cause life threatening anemia in all animals, but kittens and puppies are especially vulnerable. Hookworms are passed through the stool of infected animals. When a cat or dog comes in contact with the infected stool, the animal can contract hookworms. Our medical team administers 2-3 doses of Strongid/Pyrantel treatment for each of our shelter animals when they enter our adoption program.
Whipworms: Whipworms are also small, about ¼" long, and live in the cecum and colon of infected dogs and cats. Whipworms can cause severe damage to these organs and are considered one of the most harmful worms to pets. Whipworms are mostly found in dogs, and although cats can also contract whipworms, this worm is not common in felines who live in North America. Whipworm infections occur when an animal eats infected eggs from the environment. In other words, a dog or cat can become infected by inadvertently ingesting soil or grass that has been contaminated with whipworms eggs, or by playing with toys that have been in contact with infected soil. Whipworm eggs are extremely resilient and can survive in the soil for years. Our medical team administers Panacur as needed when whipworms are present or we suspect an infection. This medicine is administered daily for three days.
Most animals will not show symptoms of a worm infection until the worm infestation is already well established. Unfortunately, some of the common symptoms of a worm infection are very similar to other diseases. Symptoms can vary, but commonly recognized symptoms of a worm intestinal parasitic infection in dogs and cats include:
Weight loss, usually accompanied by a marked increase or decrease in appetite
A distended abdomen, otherwise known as a pot-belly
Lethargy, vomiting, diarrhea or chronic soft stool
Dulling of the animal's coat or hair loss
Scooting, or dragging the bottom area, across the ground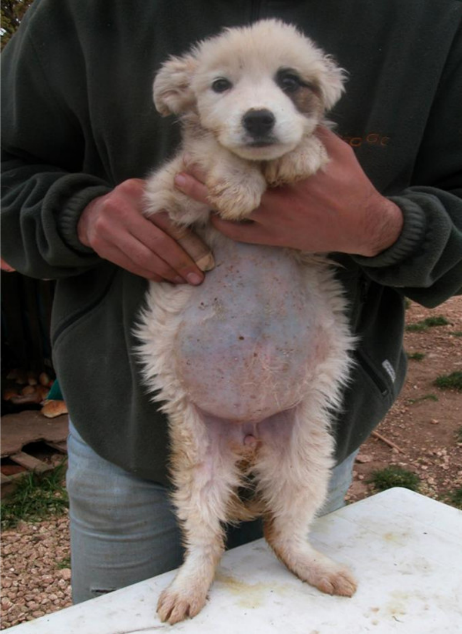 Deworming our cats and dogs protects Forsyth County's existing local animal population when our shelter pets are adopted out into the community. In addition, we are also protecting the human population from hookworms and roundworms, which are zoonotic. When you adopt a dog or cat from Forsyth Humane Society, it's important to discuss a deworming schedule with your vet. If you don't have a vet, we can recommend one. In fact, all adoptions include a free head to toe wellness exam at the partner vet of your choice.
FHS and our deworming program is supported by donations from our community. Click here if you would like to help us defer the cost of medical care for dogs and cats in our shelter. Thank you for your support and helping us to reach our goal of a 90% save rate for our shelter animals!

Dr. Katie Fanning is FHS's Medical Director. She is passionate about maintaining the health and wellness of the population of animals at FHS and educating the community on issues related to shelter animals. She lives in Winston-Salem with her husband and two rescue dogs, Isaac and Walter.