Thank you for your compassion towards this lost pet. Listed below are several suggestions & resources designed to reunite families.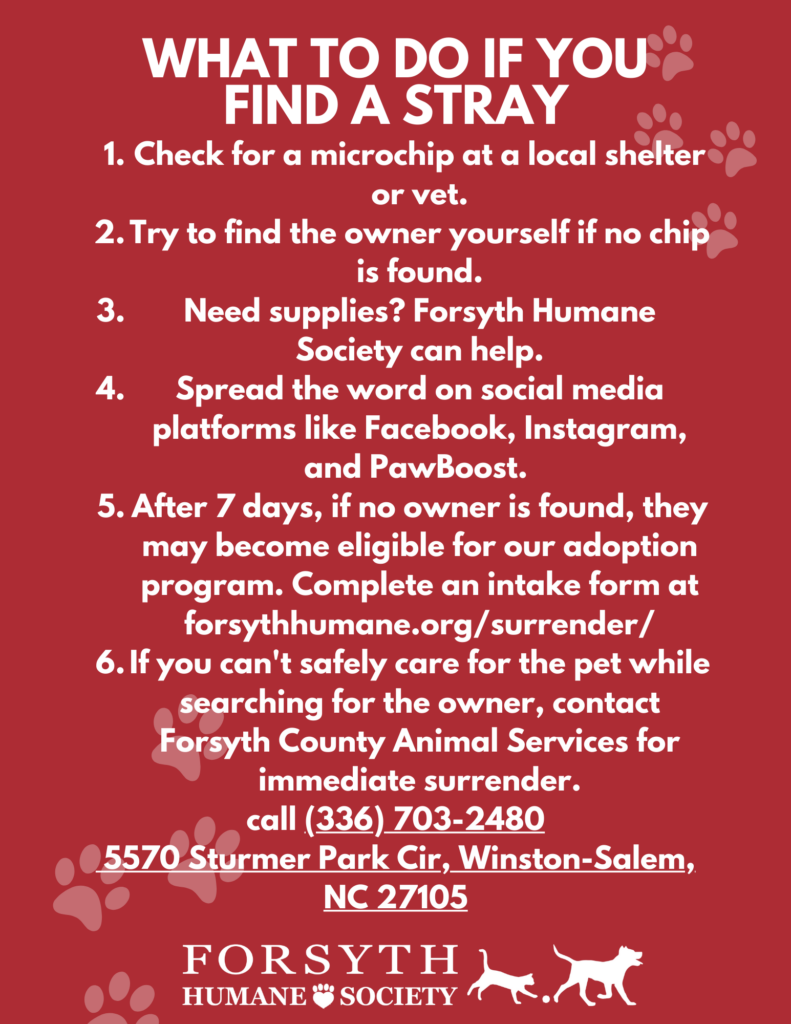 Check for a microchip: ​Please take the pet to be scanned for a microchip at a veterinary clinic, or at Forsyth County Animal Services.
Post on Pawboost! PawBoost is like an AMBER Alert for lost pets. Millions of pet lovers have joined their Rescue Squad by signing up for localized lost & found pet alerts. More importantly, PawBoost has helped reunite over 1 million pets with their families. Posting is free, with optional premium services available.

Post a picture to Petco Love Lost
Visit WXII Pets for additional resources for posting found pets.
Create a found pet flyer. Post your flyers in the area where the pet was found.
Post on Facebook Pages: WXII12 Pets or email pets@wxii12.com, Lost & Found Pets of Winston-Salem, NC, LOST & FOUND – GUILFORD, FORSYTH PETS, Lost and Found Animals in Yadkin, Surry, Forsyth, and Wilkes Counties, Lost & Found Dogs – North Carolina, or Lost & Found Pets of North Carolina.
Post an ad in the paper (The Winston-Salem Journal will place a "Found Animal" ad at no charge to the finder).
Received a response? Great! Consider the following suggestions for your safety and the safety of the animal:
Ask for proof of ownership.

​Examples that can be emailed or texted include a photo of the dog or cat, and/or vet records with a description. This may save both parties a trip if it is not the right animal.

Meet in a public place, preferably with a family member or friend.
Review the Forsyth County Animal Services Guidance: