In 2018 Forsyth Humane Society (FHS) received over 6,500 shelter animals. That is an average of 18 new dogs and cats coming through our doors each day. These shelter animals are strays, were surrendered by their owners, removed from neglect situations or lost. With so many animals to take care of, where do we begin? When an animal is brought to our facility as a stray, we try to determine whether an owner can be found. We check for tags and microchips and compare the animal to the missing pets section of Forsyth County Animal Services and other websites. Then the dog or cat goes through our intake process and is cared for by our compassionate team of professionals.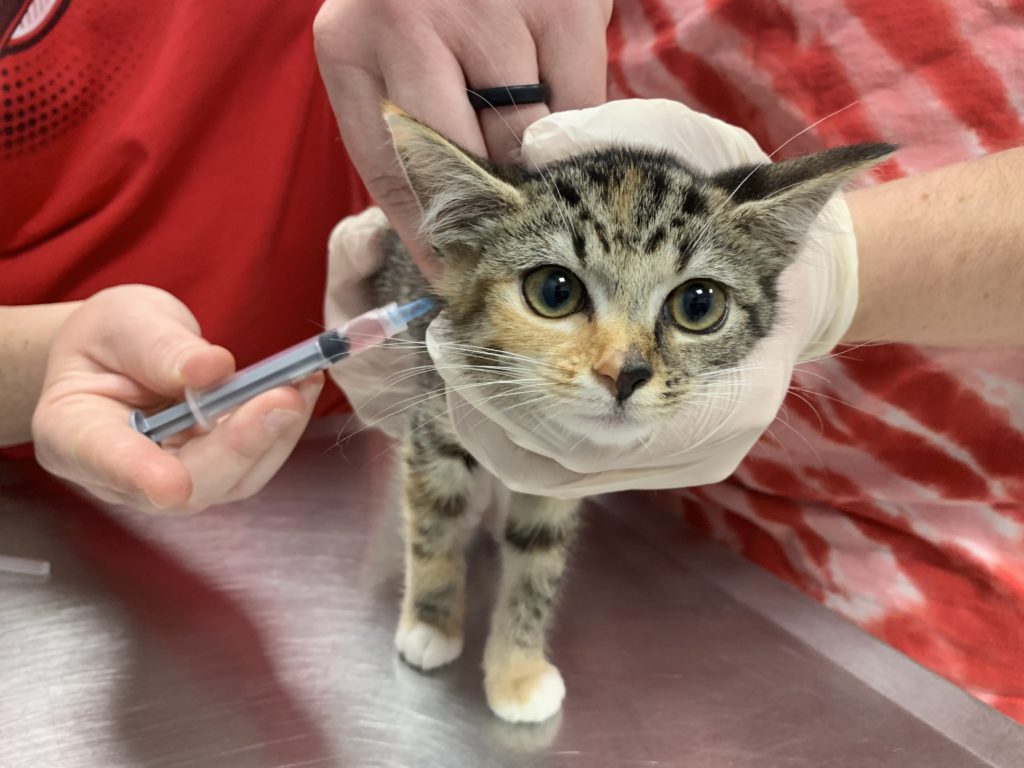 There are several steps in the animal intake process
Vaccinating the dog or cat
Deworming the dog or cat
If no chip is found, microchipping the dog or cat
Testing the dogs for heartworms and testing cats for FIV+FELV
Administering flea and heartworm preventatives
Vaccinations protect people and our four legged friends
The first step in an animal's intake journey at FHS is vaccinations by our medical team. Animals are vaccinated as soon as they are admitted to our shelter. Vaccinations directly effects the health and wellness of our existing shelter animals. Dogs receive the first DHPP, rabies and bortatella vaccines. Cats receive the first FVRCP and a rabies vaccine.
Rabies is a fatal viral disease that can infect all warm-blooded animals, including dogs, cats and humans and targets the nervous system. Once symptoms appear, the disease results in fatality in about 10 days. The disease is primarily passed to animals through a bite or scratch wound from an infected animal. If an animal is exposed to wild animals, there is a much higher risk of being exposed to rabies. The most common carriers of the rabies virus in the US are raccoons, bats, skunks and foxes. The vaccination is available in 1 or 3 year schedules.
Bordetella (Bronchiseptica) is a bacterial infection contributing to the respiratory disease commonly known as kennel cough (doggy cold). It is a highly contagious disease and is easily transmitted through the air or direct contact. In healthy adult dogs, Bordetella usually causes a mild cold. However, in puppies or in dogs with other underlying health issues, it can cause severe illness (such as pneumonia) or even death in rare cases. Common symptoms of a Bordetella infection include a persistent honking, hacking, and/or gagging cough. Fever and lethargy may also occur. If you plan to take your pup out and about after adoption, many establishments, such as dog parks, obedience schools, and grooming facilities will require that your dog be current on this vaccine. In general, Bordetella is not common in cats. However, it may be a problem for very young kittens, where it can cause severe lower respiratory tract disease. Please talk to your vet if you think your pet is suffering from Bordetella.
DHPP (puppy vaccine) is a combination vaccine and stands for Distemper, Hepatitis, Parainfluenza, and Parvovirus and protects the dog from those diseases.
The FVRCP combination vaccine is given to cats and provides protection from three major airborne diseases: Feline herpes virus, calicivirus and panleukopenia.
What is Canine Distemper, Hepatitis, Parainfluenza, and Parvovirus?
Distemper is a highly contagious disease caused by a paramyxovirus. It is similar to the human measles virus. It causes severe illness in dogs by attacking the lungs, brain and spinal cord, which results in multiple infections in the body and can be very difficult to treat. All dogs are at risk but puppies younger than four months old and dogs that have not been vaccinated are at increased risk of acquiring the disease. The virus can be airborne or transmitted by shared food or water bowls of infected animals.
Hepatitis in dogs is a very serious condition caused by an infectious virus that affects the liver and can also cause loss of vision. It can develop extremely quickly in puppies and dogs. Hepatitis is transmitted through the blood, nasal discharge, saliva, urine, or feces of infected dogs. Symptoms vary and can range from a slight fever with a loss of appetite or thirst and congestion of the mucous membranes to severe depression, severe reduction in white blood cells, and deficiency of blood clotting. In recent years the disease has become uncommon because of routine vaccination against it.
Parainfluenza is a respiratory virus that causes coughing in dogs and is one of the factors included in kennel cough. It is a highly contagious disease in the respiratory tract of infected dogs and is usually transmitted through the air via coughing and sneezing, as well as through shared bowls and bedding. The virus spreads quickly in locations where large numbers of dogs are kept together, such as kennels, shelters, doggy daycares, and dog shows. Symptoms are similar to canine flu and include a dry, hacking cough, runny nose, sneezing, eye inflammation, depression, lethargy, and loss of appetite. In general, this condition is not considered life threatening.
Parvovirus (Parvo) is an extremely deadly virus that attacks the lining of the intestinal tract and damages the heart of unvaccinated dogs and very young puppies. The virus manifests itself in two different forms. The more common form is the intestinal form, and symptoms include vomiting, diarrhea, weight loss and lack of appetite. The less common form is the cardiac form, which attacks the heart muscles of fetuses and very young puppies, often leading to death. The virus is spread by direct dog-to-dog contact and contact with contaminated feces, environments and even people. The virus can contaminate kennel surfaces, food and water bowls, collars and leashes, and the hands and clothing of people who handle infected dogs. The virus is resistant to heat, cold, humidity, and drying, and can survive in the environment for long periods of time.
What is Feline Herpesrvirus, Calicivirus and Panleukopenia?
Herpes virus infection, or feline viral rhinotracheitis, (FVR) is triggered by the common feline herpes 1 virus. Symptoms include sneezing, a runny nose and drooling. The cat's eyes may become crusted with mucous, and they may sleep much more and eat much less than normal. If left untreated this disease causes dehydration, starvation, and can be fatal. FVR is a major cause of upper respiratory disease in cats, and is the most common cause of conjunctivitis, which is inflammation of the tissues surrounding the eye. The virus can be transmitted by direct cat-to-cat contact or contact with objects that have become contaminated by viral particles, such as clothing, food and water dishes and furniture.
Feline calicivirus (cat cold) is a virus that causes upper respiratory infections and oral disease in cats. Symptoms include sneezing, nasal congestion, conjunctivitis and discharge from the nose or eyes. In addition to these typical symptoms, cats with a cat cold infection often develop ulcers in the mouth. Infected cats will usually salivate or drool excessively because the ulcers are very painful. Upper Respiratory Infection is spread through the air when an infected cat coughs or sneezes or by direct cat-to-cat contact. It can result in pneumonia if left untreated, so kittens and senior cats are especially vulnerable.

Feline panleukopenia is a highly contagious viral disease caused by the feline version of parvovirus. This virus infects and kills cells that are rapidly dividing, such as those in the bone marrow, intestines, and the developing fetus. Kittens are most severely affected by the virus. Symptoms include fever, vomiting and bloody diarrhea. Infection occurs when cats come in contact with the blood, urine, stool, nasal secretions, or even the fleas from infected cats. A cat can also become infected by coming into contact with the hands or clothing of people who handled an infected cat. The disease progresses rapidly and requires immediate medical attention. Without intervention, a cat can die within 12 hours of contracting the disease. In the past, feline distemper was a leading cause of death in cats. Because of the widespread use of the vaccine, today feline panleukopenia is not considered common.
Dog and cat vaccinations protect Forsyth County's existing local animal population when our shelter pets are adopted out into the community. This is the first step in our intake procedure and it saves many lives. When you adopt a dog or cat from Forsyth Humane Society, it's important to maintain their vaccine schedules. If you don't have a vet, we can recommend one. In fact, all adoptions include a free head to toe wellness exam at the partner vet of your choice.
North Carolina rabies law requires that all dogs and cats must be vaccinated against rabies by three months of age and the vaccine must be kept current. Dogs are required to wear their rabies tags on their collars or harnesses at all times. If you need low-cost veterinary assistance, you check out our website at https://forsythhumane.org/clinics/ for more information.
FHS and our vaccination program is supported by donations from our community. Click here if you would like to help us defer the cost to vaccinate dogs and cats in our shelter. A $20 gift buys FHS 10 rabies vaccines. Thank you for your support and helping us to reach our goal of a 90% save rate for our shelter animals!

Dr. Katie Fanning is FHS's Medical Director. She is passionate about maintaining the health and wellness of the population of animals at FHS and educating the community on issues related to shelter animals. She lives in Winston-Salem with her husband and two rescue dogs, Isaac and Walter.