The Future of Forsyth County's Animals
1/6/2023
Dear Friends of Forsyth Humane Society,
As announced by Forsyth County Manager Dudley Watts yesterday at 4:25pm in a media release, Forsyth County is moving to resume the responsibility for cats and dogs at the County Shelter beginning April 1st.
Forsyth Humane Society learned at 5:53pm that the Board of Commissioners denied Forsyth Humane Society's counteroffer of $1.5 million and an ask to review yearly at open budget reviews the negotiated amount. This was a counteroffer to the Board of Commissioners $1.2 million with a contracted period of five years.
During the ongoing negotiations since the end of September, Forsyth Humane Society has provided documentation to show it takes nearly $2.1 million to provide care and services for the homeless pet population, bite quarantines, and cruelty investigation hold animals of Forsyth County.
Forsyth Humane Society has made adjustments to its initial requests in an effort to remain in partnership with Forsyth County while reminding them that we are a non-profit that would be required to fundraise the budgetary shortfalls. Our last offer left Forsyth Humane Society responsible for raising over $600,000 in order to stay in partnership, providing the care of the animals coming into Forsyth County Animal Shelter.
With the offer that the Forsyth County Board of Commissioners made of $1.2 million, it would now require Forsyth Humane Society the responsibility to raise nearly a million dollars. And not for one year, but for five years, pending no additional economic changes which could continue to increase that budgetary shortfall.
As the contract between our organization and Forsyth County nears its end, we want to reaffirm our commitment to the animals and people of the community. Providing care for the animals in our community is at the heart of our mission, and we are dedicated to continuing this important work.
Over the years, we have built strong relationships with the people of Forsyth County and have worked tirelessly to address the needs of the animal population. Whether it's through our adoption programs, spay and neuter initiatives, or educational outreach efforts, we have always been committed to improving the lives of animals and people in our community.
The question that is most pressing and should be the headline now is: "What will happen to the more than 6500 animals that will enter the County Shelter in 2023?
In the press release yesterday. County Manager Dudley Watts is quoted as saying that partnerships with animal welfare groups have always been and will continue to be critical in lowering the euthanasia rate for adoptable dogs and cats. However, as spoken by the Board of
Commissioners, they have no desire to step into "adoptions" or "fostering" which we know are the two most critical components in reducing the euthanasia of healthy adoptable animals.
For the 1st four years in contract, Forsyth Humane Society, with strongly established relationships, was able to transfer out 4,284 animals which is an average of 1071 per year. In 2022 Forsyth Humane Society saw a 21% increase in intake with 6,720 dogs and cats entering the system, the highest number since before we entered into this partnership, and we were only able to transfer out 358 animals.
Why? Because the increase in shelter animals is a national problem, and shelters that were once able to accept animals are also now full.
So again, the headline needs to be – "What will happen to the more than 6500 animals entering the Forsyth County Animal Shelter in 2023?"
As we move forward, we are committed to continuing this important work and to being a resource for the people and animals of Forsyth County. We will continue to provide quality care for the animals in our shelter, and we will work to find loving homes for as many of them as possible.
We know that the bond between humans and animals is a special one, and we are dedicated to supporting and strengthening this bond in any way we can. Whether it's through our adoption programs, educational resources, or community events, we are committed to bringing people and animals together and to fostering a sense of compassion and understanding.
Thank you to the supporters of FHS as we have been in partnership with the County since 2018, and we look forward to how we can continue to serve our community.
Sincerely,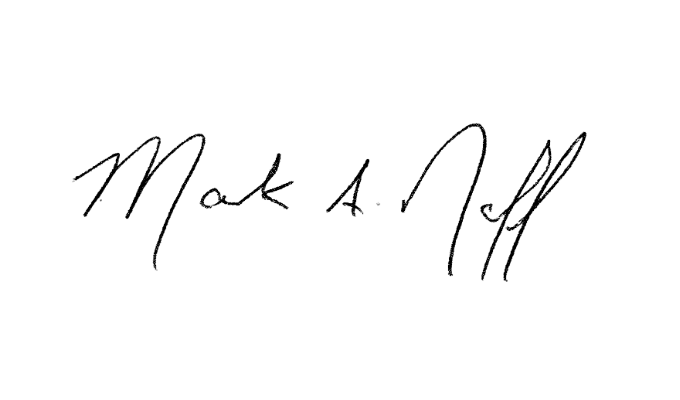 Mark Neff President/CEO
---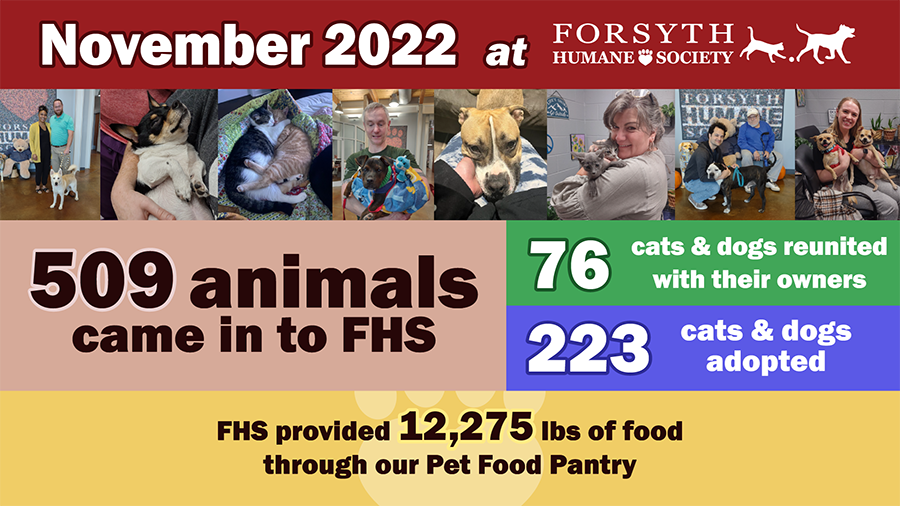 ---

Our Mission is to promote and provide for the humane treatment of cats and dogs in Forsyth County, North Carolina.
Our Goal: In support of our mission, the Forsyth Humane Society (FHS) is committed to achieving a 90% save rate of shelter dogs and cats in Forsyth County by 2023.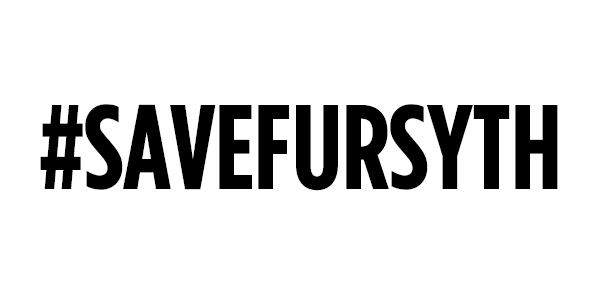 The Forsyth Humane Society will achieve this goal through:
Education – FHS will educate the public about the importance of spaying and neutering pets to decrease the number of homeless animals living in Forsyth County.
Outreach – FHS will support people who want to keep their beloved animals in their homes, but need help with food, vet bills, pet supplies, or training and behavioral resources.
Foster – FHS will provide foster care for adoptable animals when shelter space is limited or when animals require specialized care to become adoptable, such as very young puppies and kittens, or animals healing from medical issues.
Adoption – FHS will find safe, loving homes for as many animals as possible.
Care – FHS respects the life of every animal. We will provide physical and emotional care to each animal that comes through our doors.
We Believe:
Animal companionship enriches peoples' lives. Animal companionship builds character and teaches compassion. The overpopulation of cats and dogs will be reduced through awareness, education, and community involvement. The compassionate treatment of animals positively impacts our community's vitality.
Looking Back
Since 1941, the Forsyth Humane Society has acted as an advocate for the unwanted and uncared for feline and canine animals in our community. Our chapter began thanks in large part to D.D. and Lydia Schouler whose dog was trained to catch the bus, with a coin in his mouth, and bring Mr. Schouler his lunch each day. Years later, Mrs. Schouler honored the memory of such loyalty by establishing in her will the D.D.Schouler Fund for the Prevention of Cruelty to Animals. From there, we are now known as the Forsyth Humane Society.
FHS Today
Forsyth Humane Society has grown over the years and now serves as the leading nonprofit organization in the Triad providing animal resource information, humane education, pet food assistance and promotion of responsible pet care. Forsyth Humane Society is also the only open admission animal shelter in Forsyth County.