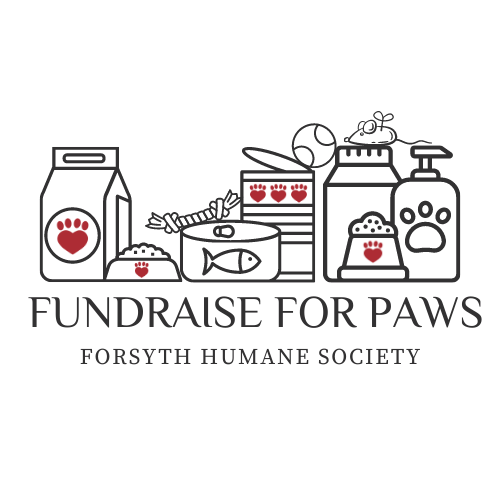 We no longer host Birthday Parties or Critter Camp at Forsyth Humane Society. However, should you feel compelled to fundraise for us in a fun and interactive way check out the resources below.
Our Fundraise For Paws events are ways that YOU can support Forsyth Humane Society through your workplace, neighborhoods, service clubs, schools, and communities. From summer lemonade stands and dog treat bake-offs, to corporate fundraisers and challenges to collect supplies from our wish list, there is something for you here!
Here's how it works:
Decide you want to "Fundraise for Paws"
Download our Official Guide to Hosting a Fundraiser which includes donation cards, goal posters, sample event flyers, table top signs, how to submit donations, recipes and more!
Email Kristen, our Events & Engagement Coordinator at kwilliams@forsythhumane.org and get your unique Event ID # (you will need this later to submit and track donations)
Share details of when and where your event is with Kristen who can help promote your event on our social media accounts that focus specifically on community events.
Host your event
Tally up your success and make your donation with the form below – using your Event ID # – or schedule a time to drop off donations to our Country Club location, meet some of the animals you are supporting and get a photo made with your donations!
Thank you for choosing to host a "Fundraise for Paws" event to raise money and collect supplies for Forsyth Humane Society! Your efforts will help our life-saving programs and push us towards reaching our 90% save rate goal for shelter pets in Forsyth County!
DOWNLOAD YOUR EVENT KIT
BONUS MATERIAL: A comprehensive resource on how to make different pet toys brought to you by our friends in Girl Scout Troop 02665! They put this list together for us as a part of their Silver Award Project and we are excited to share it with you!
If you have any questions email Kristen, she is happy to help get you started and support you along the way! Kristen Williams: kwilliams@forysthhumane.org
FOUR THINGS TO DO NOW!
Download and print the materials listed above
Buy Official Forsyth Humane Society gear from our retail shop or online
Build a lemonade stand – plans to come!
Invite friends, family, and any business contacts to support your fundraiser!
donation form above