Forsyth Humane Society is excited to announce that we will be opening a low cost spay/neuter clinic in 2024!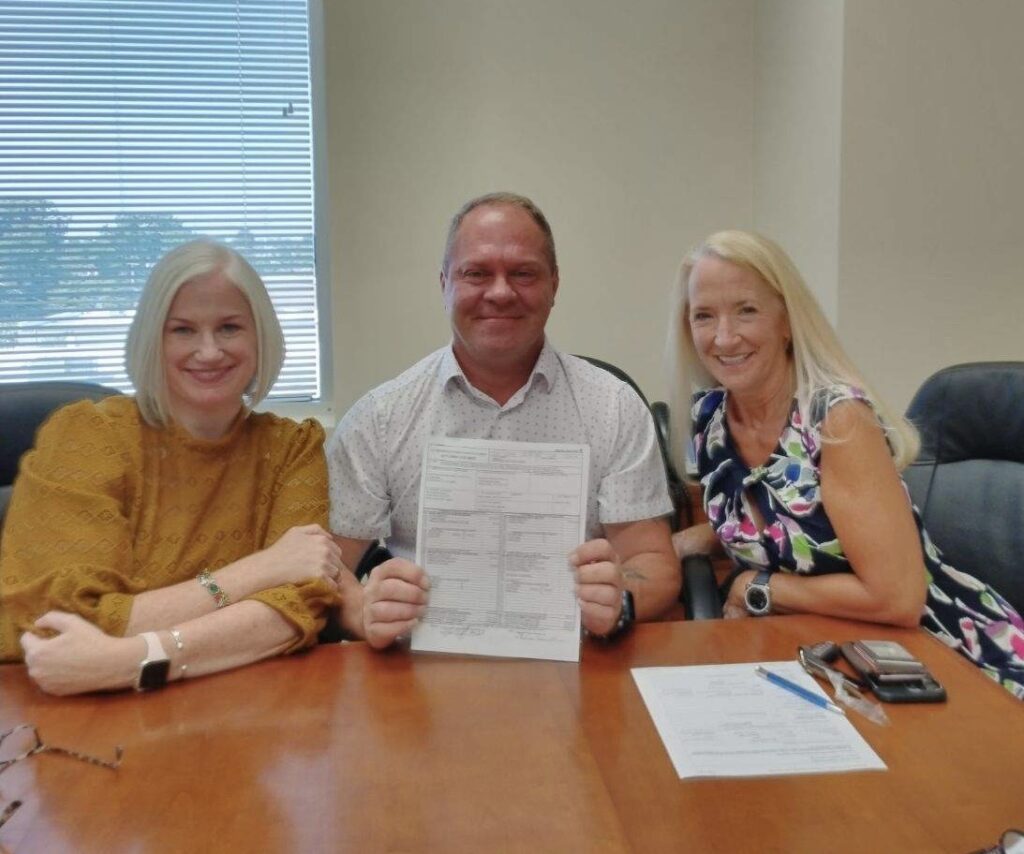 Mark Neff, President and CEO with Board President, Suzanne Ramm and Board Vice President, Bethany Fey
signing for the building that will be our future low-cost spay/neuter clinic at 725 Waughtown St.
August 28, 2023
Dear Forsyth Humane Society Supporters,
We are absolutely thrilled to share some monumental news with you! Our commitment to serving animals and our community is about to take a giant leap forward with our upcoming project: the opening of a brand-new Low-Cost Spay/Neuter & Wellness Clinic at 725 Waughtown Street!
What This Means for Our Community:
Accessible Care for All: Our new clinic's location at 725 Waughtown Street will ensure that high-quality pet care is within easy reach for everyone. No matter where you're coming from, convenient access to vital services is now a reality.
Affordable Services: We firmly believe that every pet deserves the best care possible. Our low-cost clinic will provide essential spay/neuter and wellness services for all. We're here to remove financial barriers and promote responsible pet ownership.
Empowering Pet Parents: Knowledge is key to providing excellent care for your furry companions. Our clinic will not only offer top-notch medical services but also information on resources to empower you to be the best pet parent you can be.
State-of-the-Art Facility: The 725 Waughtown Street location will be transformed into a modern and welcoming space dedicated to the well-being of pets. Cutting-edge facilities, experienced staff, and a compassionate environment will define your experience here.
Community Impact: By focusing on spay/neuter services, we're taking proactive steps towards reducing pet overpopulation, homelessness, and the associated challenges. A healthier pet population means a happier and stronger community.
How You Can Be Part of This Journey:
Spread the Word: Share this incredible news with your friends, family, and fellow animal lovers. The more support we garner, the greater our impact on pets and people in our community.
Donate and Support: Your continued support makes projects like these possible. Consider contributing to our mission – every bit counts in making a difference in the lives of animals.
Stay Tuned: We'll be sharing updates, progress reports, and details on the clinic's grand opening. Your involvement and enthusiasm mean the world to us, and we can't wait to have you join us on this journey.
Thank you for being the heart and soul of Forsyth Humane Society. Together, we're creating lasting change and brighter futures for pets and the people who love them.
With gratitude and excitement,
Mark Neff
President & CEO
Forsyth Humane Society