Carman, a sweet black Labrador, came into our care at Forsyth Humane Society as an owner surrender. Due to unforeseen circumstances, her previous owner could not provide the time and care she deserved, and she arrived at the shelter alongside her companion, Guy. Although they lived together for a few years, it became apparent that they were not a bonded pair, and Guy found his forever home quickly. However, Carman's journey took a different turn when we noticed she was limping, leading to a crucial discovery that changed her life.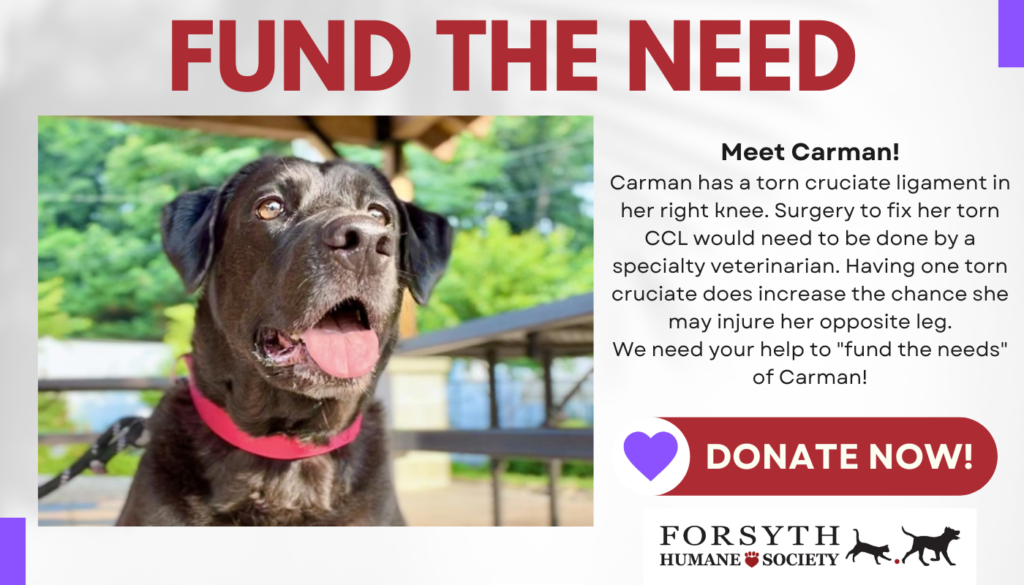 As dedicated caretakers of the animals in our care, we immediately noticed Carman's discomfort and took her to our medical team for a thorough examination. Our veterinary experts soon diagnosed her with a torn cruciate ligament in her right knee, requiring urgent attention and specialized treatment. To ensure Carman's well-being and give her the chance of a pain-free future, the vet recommended surgery to repair her torn CCL. Unfortunately, the surgery must be performed by a specialty veterinarian, making it essential and costly. It would cost up to 4,000.
Carman's condition is not to be taken lightly. If left untreated, it could cause her considerable pain and discomfort and increase the risk of injuring her opposite leg. We cannot allow this precious girl to suffer, so we're contacting our wonderful community for support.
While we work towards raising funds for Carman's surgery, we are fortunate to have placed her in a loving foster home. Her foster family provides her with the care, love, and attention she deserves, making her feel safe and cherished as she waits for the surgery to change her life.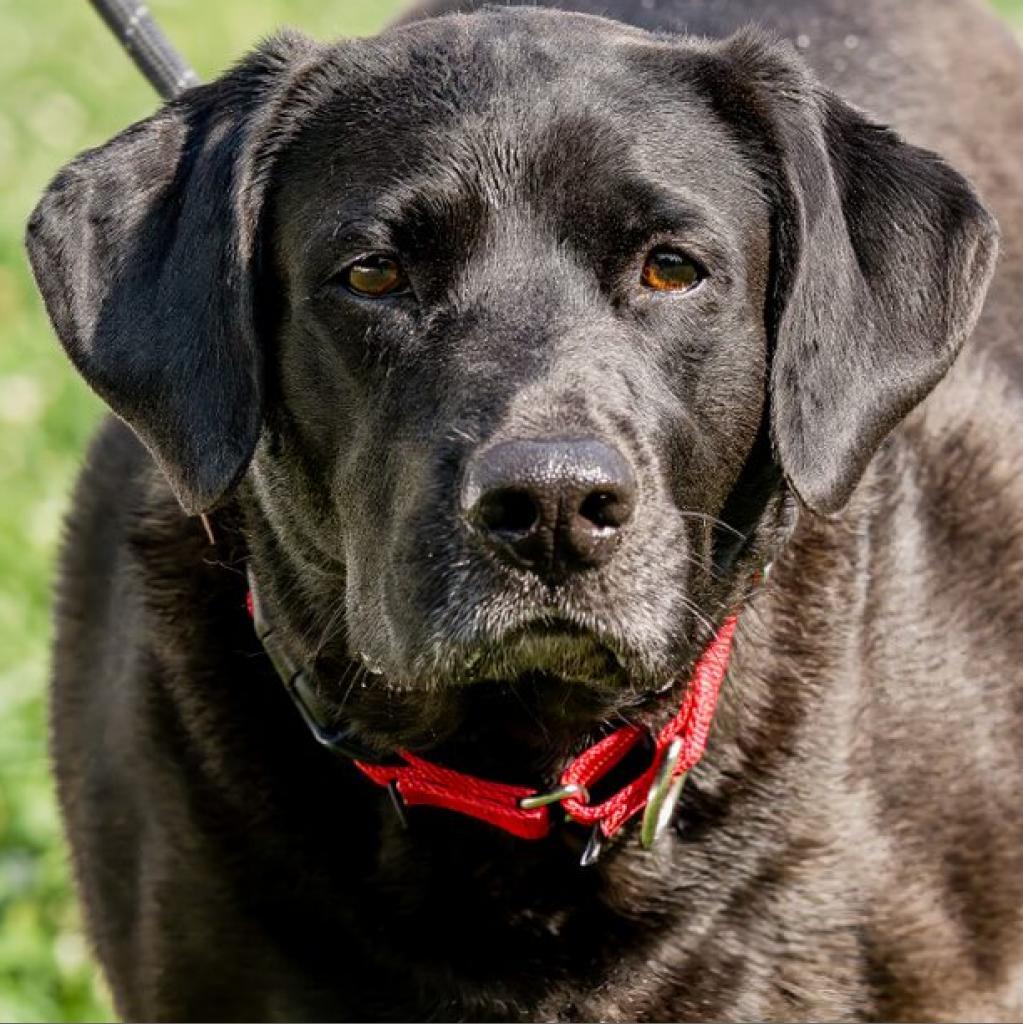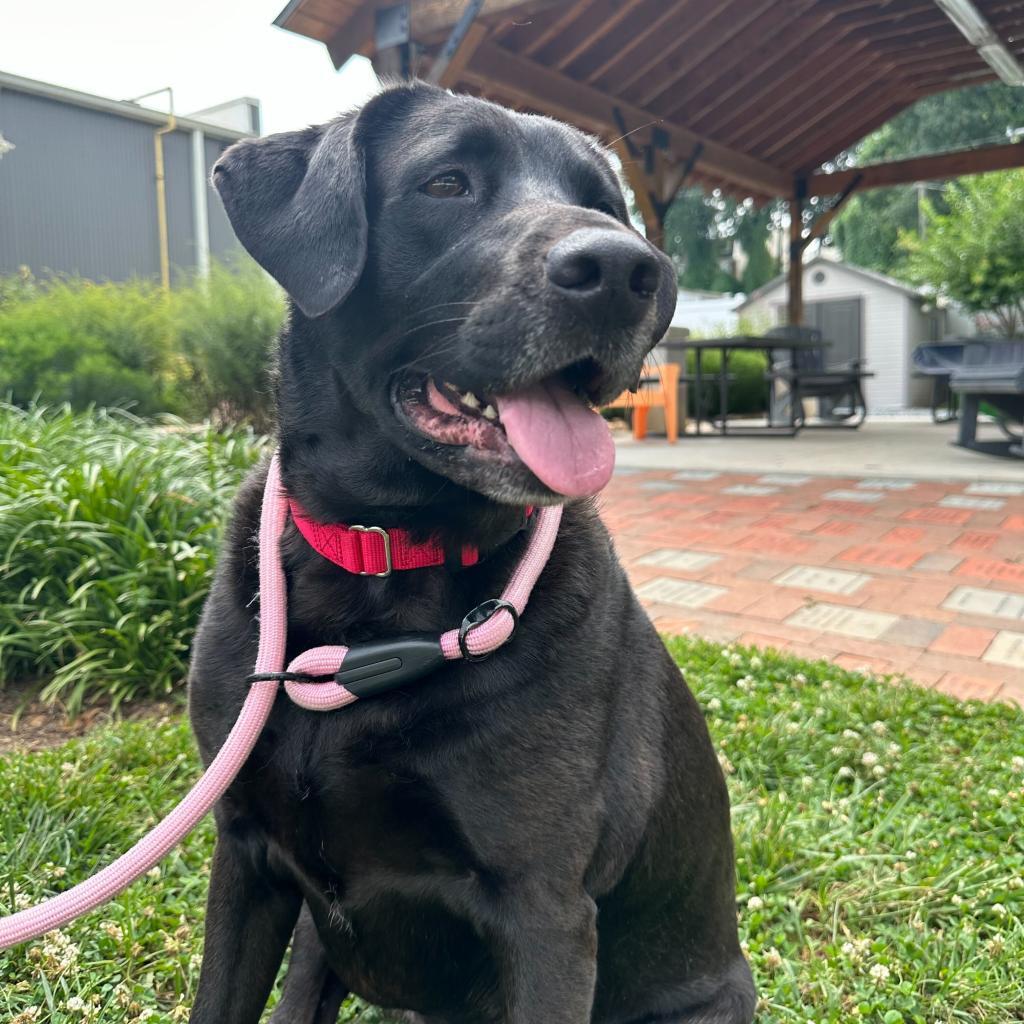 Carman's journey toward a happy ending depends on the generosity of our community. We humbly request your support in funding her much-needed surgery. Your contribution, no matter how big or small, will make a tremendous difference in her life and help her regain her mobility and comfort. Let's come together and ensure that Carman gets the chance to experience a life full of love and joy.
Following the surgery, Carman's journey to recovery will continue with physical therapy, including hydrotherapy, which will aid in her healing process. We are committed to providing her with the best possible care and ensuring she receives the attention she needs throughout her rehabilitation.
With your help, Carman can have the happy ending she so deserves. Let's join forces, spread the word, and rally our community to support this fantastic girl on her path to recovery and a brighter future. Together, we can positively impact Carman's life and demonstrate the true power of compassion and kindness.
Carman's story reminds us of the importance of responsible pet ownership and the need to provide our furry friends with the love and care they deserve. We are deeply committed to Carman's well-being, and we know that with your support, she will overcome this obstacle and find her forever home. Let's make a difference in Carman's life and show her that her happy ending is just around the corner. Thank you for being a part of this incredible journey!