Kitten season refers to the time of year when many litters of kittens are born, usually from April to October, and when animal shelters are flooded with unwanted and homeless cats and kittens. Please read below for additional information and tips on what to do if you find a litter of kittens.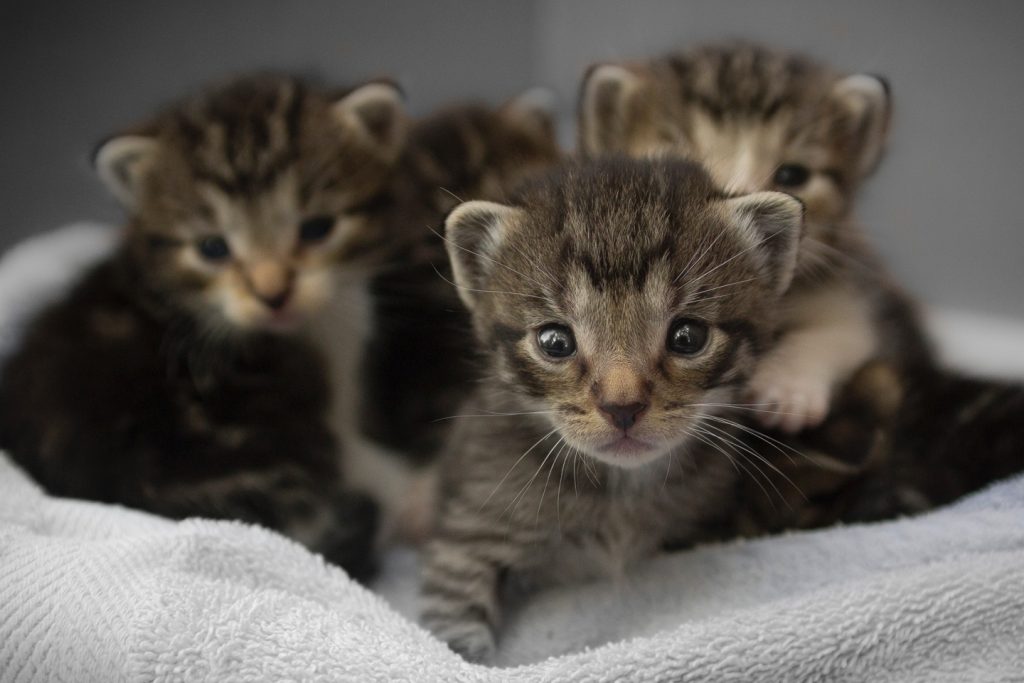 The National Animal Care and Control Association (NACA) has recommended that the only animals coming into shelters should be those that are true emergencies such as sick, injured, or neglected pets. So, what does that mean for community cats and neonatal kittens?
If you happen upon a litter of kittens outdoors, it's natural to want to scoop them up and try to care for them yourself or take them to a shelter. But both of those options may actually place them in more danger. In addition, truly feral cats and kittens cannot be socialized and made to be "adoptable" – the one trait necessary for all animals entering a shelter to find a new home. To give a stray cat and her newborn kittens the best chance of survival, follow these steps:
Don't touch the kittens and do try to figure out if their mom is around. Observe them from a distance every couple of hours for 12 to 18 hours. Also, try leaving out wet or dry food for the mother. If the food is gone in 12 hours, Mom is taking care of her babies. If the kittens seem content and are not fussing, there's a good chance their mom is coming back.
If the kittens are in danger due to their location, move them to a safer spot nearby so the mom can easily find them when she returns.
If the mom hasn't come back or the kittens are dirty, meowing or appear sick, underweight or dehydrated, contact a local feral rescue organization such as Forgotten Felines of Forsyth County. They can help you determine if the kittens are at risk and if you should intervene. If intervention is necessary, Kitten Lady offers comprehensive resources for taking care of neonates and kittens. As a last resort, the kittens can be brought to FHS.
Finally, if you spot the mom, leave the kittens alone. Provide food to the mom. When the kittens have been eating on their own for about four weeks or are big enough for surgery (typically when they're between two and three months old), humanely trap the whole family (TNR – Trap, Spay or Neuter, Release) and have them spayed or neutered. A local TNR program may be able to help you with the trapping process. After the cats are spayed or neutered, release them at the location where you found them. TNR is the most humane method of preventing feral cats and kittens from entering the shelter system and being euthanized. Forgotten Felines of Forsyth County and Humane Solution are both excellent references for TNR.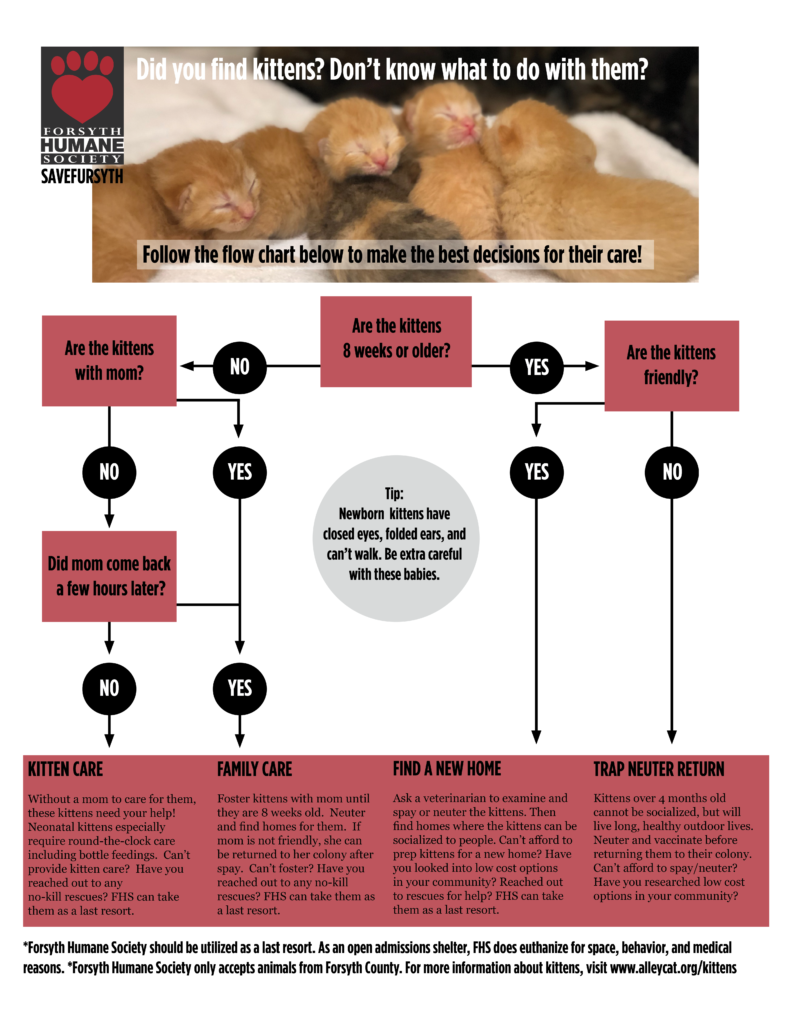 For more information about kittens, visit Kitten Lady or Alley Cat Allies.